Why choose Tanner James for your training?
Experienced experts in Program and Project Management
…of attendees said that their Tanner James course met their stated objectives*
Why learn with Tanner James?
Tanner James offers an exceptional level of program and project management training, including agile project management. Boasting years of experience of working both in and for the Australian Public Sector, Tanner James trainers deliver an excellent classroom learning experience.
At Tanner James, our trainers have years of using, applying, and tailoring the AXELOS program and project management methods in different government Agencies and Departments, as well as private sector organisations. Tanner James introduced PRINCE2 and MSP to Australia and remains one of the most experienced providers of training, coaching and consulting in AXELOS project and program management frameworks. All our AXELOS training courses are fully accredited and include the official examination and related certification.
Course Conductor, who compile the report, aggregate client feedback from telephone interviews with corporate training buyers, online surveys, course evaluations and verified client reviews. Data is subjected to a unique and consistent scoring methodology that enables the Trusted Training Radar® to accurately visualise which training vendors have scored highest for confidence to deliver training outcomes and learner satisfaction. Training vendors, such as Tanner James, that score above the Market Leader pass mark, qualify for Course Conductor Market Leader Accreditation. Course Conductor Accredited Market Leaders have received the highest scores from client organisations and learners about a variety of certified and bespoke agile courses.
Clients have reported consistent achievement of their target training outcomes from these training vendors, as well as the highest levels of customer service and exceptional course delivery. In addition, Course Conductor Accredited Market Leaders often contribute valuable content to the training industry including high-quality blogs, videos, articles, and white papers.
Look no further for your program and project management training than Tanner James.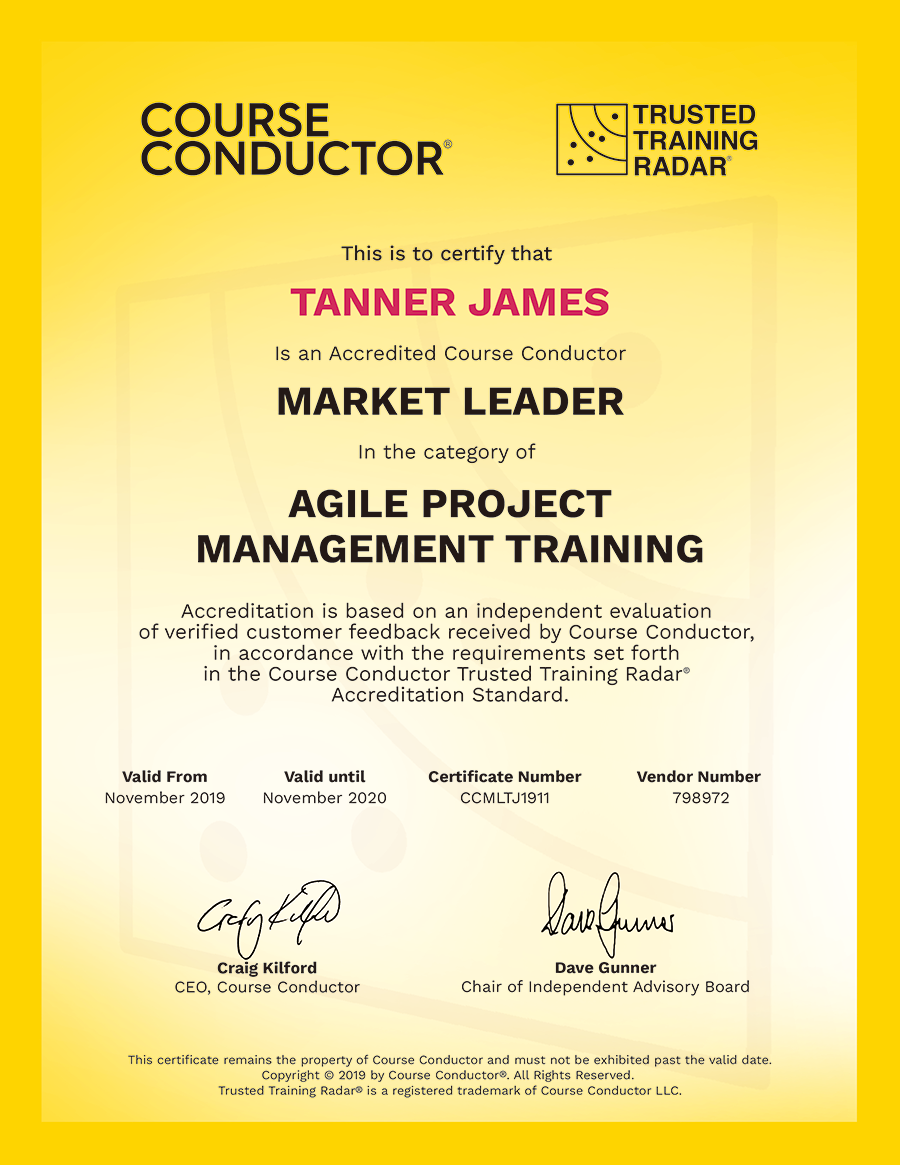 "The course was exactly tailored to my needs and the trainer really knew his stuff"
"Our projects will run more smoothly and have better outcomes as a result of attending this course."
"Facilitator was great, very engaging. He provided useful personal experience to support the theory – this helped me understand how MSP works in the real world."
"Tren was an excellent presenter and learning facilitator.  His explanations and examples were articulate, practical and insightful. He was supportive, flexible and professional."